Bernese Mountain Dog
Berner Sennen
Foton/Photos

Om oss/ About us

ValpPlaner/



Puppy Plans

Nyheter/ News
Så här bor vi/
This is how we live

Våra hundar/ Our dogs

Hanar/Males
Doremis Quarterback McD

Tikar/ Females
Doremis Xanadu Lobo
Doremis Yenna Quott
Bernerhusets Miakoda My Princess
Doremis Guldnougat Ley
Doremis Honeyfin Leyo

Fodertikar
Doremis Afrodite Maxxa


Valpkullar/ Litters
A-Z 1982-1998
A-Z 1998-2007
A-Z 2007-2017
A- 2017-

Globetrotter
Lydnad & Arbetande
/ Obedience & Working
Uppfödargrupper/
Breedinggroups
Använda hanar i avel/
Used males for mateing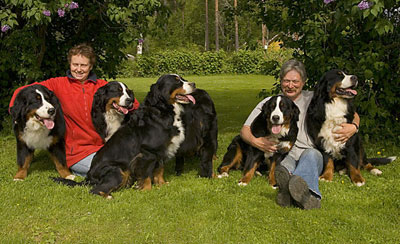 Vi har Doremis Kennel och den består av för tillfället 3 hundar och vi tvåbenta som är König och Linnea. Vi bor 2,5 mil utanför Umeå "Björkarnas stad" och jobbar inne i stan. Vi arbetar natt, till att börja med var det för barnens skull som är tre pojkar, och så småningom så har det blivit för hundarna skull, man får mycket dagtid över till dem och på natten sover de ju i alla fall. Alla hundarna och valparna bor inne i huset hos oss i familjen.
Valparna finns i sovrummet i lugn och ro de 2 första veckorna sen flyttar de ner till köket och lever med alla de andra hundarna i en stor flock.
Efter några hundar av olika ras så blev det en Berner 1980 och sedan har det bara funnits den rasen. Vi fick vår första kull 1982 och vi har i dag fött upp 369 valpar.
Bernern är en som vi brukar säga "en 24-timmar hund" dvs man kan göra nästan vad som helst med den och den är alltid nöjd. Vi tycker om att jobba lydnads och bruks och att ställa ut.
Vi har här hemma haft 4 lydnadschampions ytterligare två som hade 1:a pris i elitklass, en som hade certpoäng i elitspår samt 18 utställningschampions varav 8 är internationella champions IntCh, C.I.B. och tre stycken svenska vinnare, SV.

Ur vår uppfödning har vi 43 utställningschampion av dem 11 internationella champions C.I.B., 1 Nordic Ch, 25 med cert, och 3 lydnadschampion, 30 har lydnadsmeriter LP. 3 är SE VCH (viltspårchampion) och 2 arbetsprovschampion SE(AP)CH.
Doremis Kennel har varit Årets mestvinnande uppfödargrupper 2000,2001,2002,2003,2004, 2005,2006,2007,2008, 2009 2:a, 2010 3 :e, 2011 3:e, 2012 3:e
Ett stort tack till
er
alla valpköpare som har arbetat och tränat och åkt många mil på utställningar och tävlingar, utan er har vi inte haft såna framgångar.
We are breeders of Bernese Mountain Dog and our kennel is called Doremis Kennel, We stands for the man König and the wife Linnea and we have at the moment 6 dogs at home.
We are living in the northern of Sweden outside a town called Umeå and we are working night-shift, at first for our 3 children so they didn´t have to go to any day-care center and now it is pefect for the dogs.
All dogs and puppys are living inside the house with the family all the time.
Our puppies are staying in our bedrom the first 2 weeks where there are in peace and quiet and then they move into our citchen and all the other dogs to br a part of the pack .
We got our first Bernese in 1980 and we had our first litter in 1982 sinse then we have bred 369 puppies, 43 are champions and 25 with CAC, 11 of them are C.I.B (IntCh), 30 have merits in obedience, 3 Se VCH and 2 SE(AP)CH.
Doremis Kennel has been the years most winning breedinggroup 2000,2001,2002,2003,2004,2005,2006 2007, 2008, 2009 2:nd, 2010 3:rd, 2011 3:rd, 2012 3:rd
A big THANK YOU to all puppybuyers for all the miles on the road to dogshows and competitions, without you we haven´t had this success.